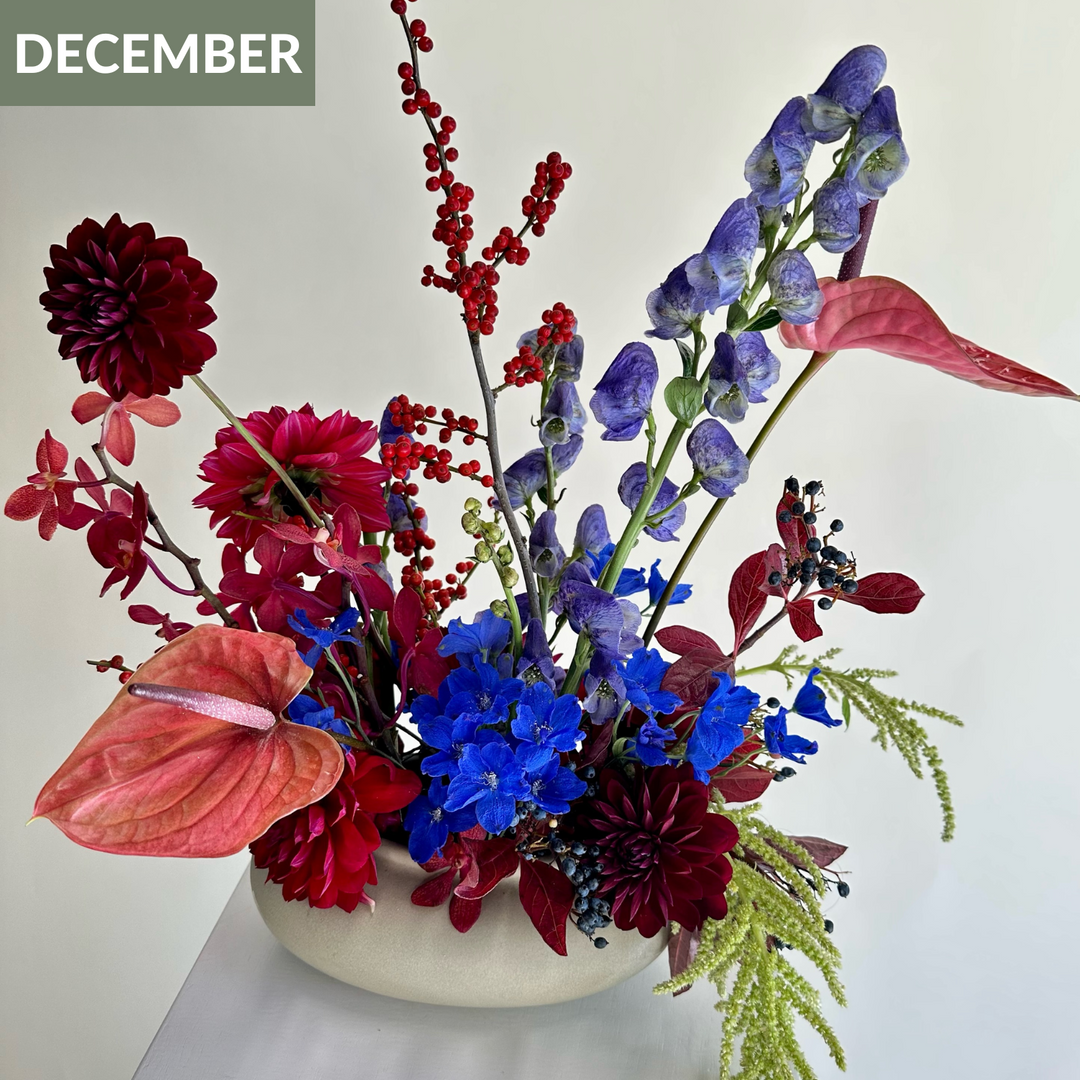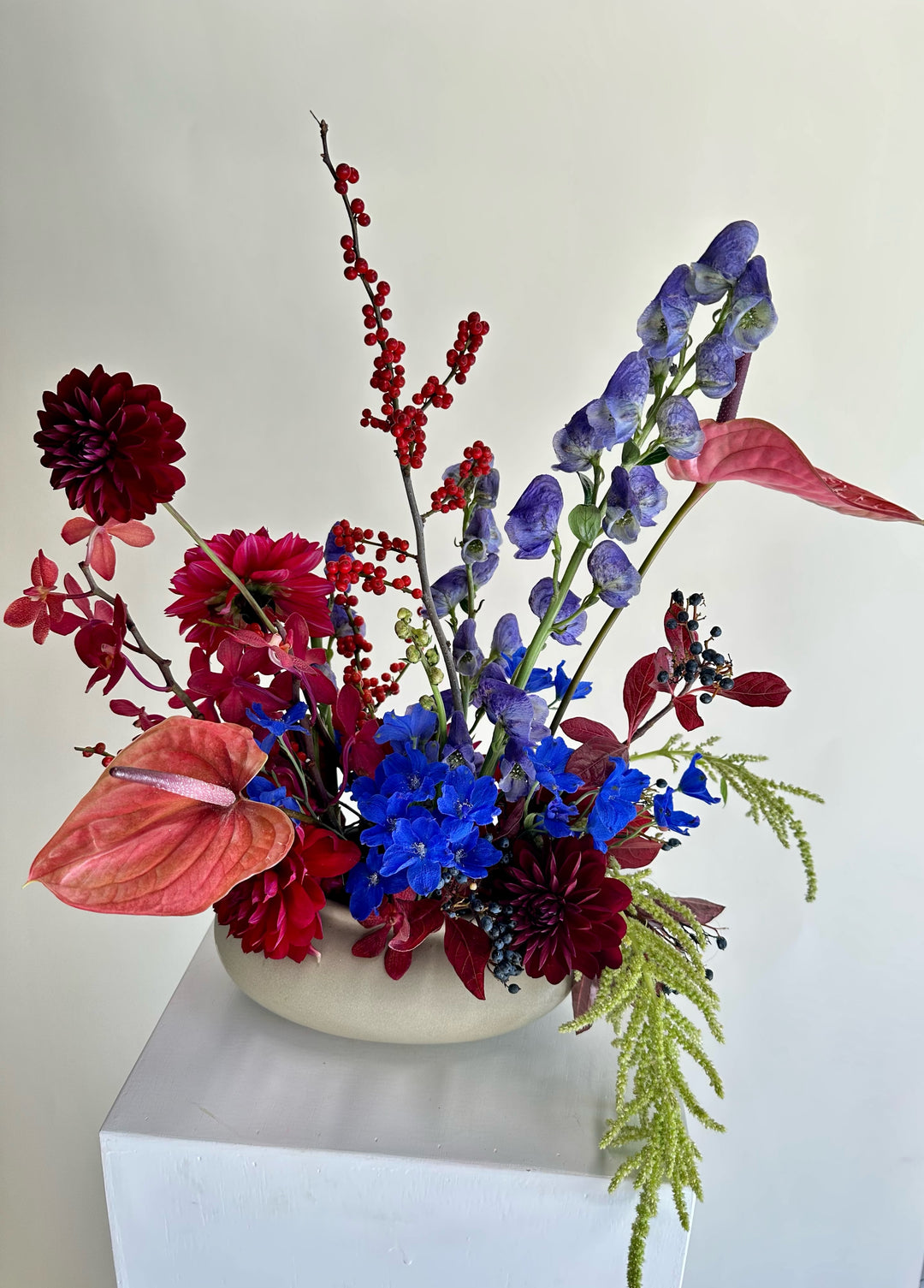 Make a Sculptural Flower Arrangement with Furiosa Flowers - Santa Monica
Details

Location

About The Artist

Policies

Liability & Safety
This workshop will cover how to create a sculptural Holiday flower arrangement featuring a Still Life handmade ceramic vase. You will learn how to design with fresh seasonal flowers & branches rich with color & texture.  You'll learn the ins and outs of how to maximize your arrangement's volume and life. For the adventurous participants, you will also experiment with various techniques to include some playful elements to your arrangements and add some Holiday magic!
This workshop includes all flowers, tools & your very own ceramic vase you get to display in your home.

Skill Level: Beginner Friendly
Still Life Studio // Santa Monica, CA
850 Pico Blvd
This is a one-day workshop meeting on:

Sunday, December 17th, 2023: 2:00 pm - 3:30 pm


Marie Dufort is the founder & owner of Furiosa Flowers, a boutique creative floral design studio based in LA. A Montreal, Canada native, Marie is passionate about translating emotions & colors into floral art  & connecting with her community through flowers. She specializes in curating flowers for custom arrangements & large scale installations, leveraging a bold sense of style to create memorable & exciting designs.

You can find her work here www.furiosaflowers.com or on instagram @furiosaflowers.
All students must agree to the following upon registering for a class or workshop at Still Life Studio:
Waivers and Safety for Ceramic Classes and Studio Use
Students will follow all instructions by teacher

Students will not load, unload or operate the kilns

Long hair should be tied back

Do not wear articles of clothing or jewelry that hang off the body.

Closed footwear is required.

Do not use any equipment without a staff member present.

SLS will provide safety glasses or gloves upon request.

All completed work must be picked up from Still Life Studio no later than

4 weeks

after the

student's final class. Still Life Studio is not responsible for any work left longer than

4 weeks.

It is the student's responsibility to pick up their work.
COVID-19 Liability Waiver
I acknowledge the contagious nature of the Coronavirus/COVID-19 and that the CDC and many other public health authorities still recommend practicing social distancing.
I acknowledge that Still Life Studio has put in place preventative measures to reduce the spread of the Coronavirus/COVID-19.
I acknowledge that Still Life Studio can not guarantee that I will not become infected with the Coronavirus/Covid-19. I understand that the risk of becoming exposed to and/or infected by the Coronavirus/COVID-19 may result from the actions, omissions, or negligence of myself and others, including, but not limited to, studio staff, and other studio clients and their families.
I voluntarily seek services provided by Still Life Studio and acknowledge that I am increasing my risk to exposure to the Coronavirus/COVID-19. I acknowledge that I must comply with all set procedures to reduce the spread while attending my class.
I agree to show proof of vaccination against COVID-19 to a SLS staff member upon arrival, or furnish a negative COVID-19 test result that was administered no more than seven days before my visit.
I attest that:
* I am not experiencing any symptoms of illness such as cough, shortness of breath or difficulty breathing, fever, chills, repeated shaking with chills, muscle pain, headache, sore throat, or new loss of taste or smell.
* I have not traveled internationally within the last 14 days.
* I do not believe I have been exposed to someone with a suspected and/or confirmed case of the Coronavirus/COVID-19.
* I have not been diagnosed with Coronavirus/Covid-19 and not yet cleared as non contagious by state or local public health authorities.
* I am following all CDC recommended guidelines as much as possible and limiting my exposure to the Coronavirus/COVID-19.
I hereby release and agree to hold Still Life Studio harmless from, and waive on behalf of myself, my heirs, and any personal representatives any and all causes of action, claims, demands, damages, costs, expenses and compensation for damage or loss to myself and/or property that may be caused by any act, or failure to act of the studio, or that may otherwise arise in any way in connection with any services received from Still Life Studio. I understand that this release discharges Still Life Studio from any liability or claim that I, my heirs, or any personal representatives may have against the studio with respect to any bodily injury, illness, death, medical treatment, or property damage that may arise from, or in connection to, any services received from Still Life Studio. This liability waiver and release extends to the studio together with all owners, partners, and employees.
Liability Waiver
In connection with my involvement in ceramic classes at Still Life Studio, I hereby release Still Life Studio, its agents, representatives, successors, or assignees, Still Life Studio management and employees, from all liabilities, actions, claims, damages, demands, costs, and expenses which I am now or in the future have against them, arising out of or in any way connected with my participation in art classes, including enroute to or from the program or its related events. I understand that the waiver includes, but is not limited to, all injuries to me and or loss of injuries to any personal property. I also understand that this waiver includes, but is not limited to, any claims that are based on my alleged negligence or any other action or inaction of any of the above parties.
I also give Still Life Studio permission to publish in print, electronic, or video format the likeness or image of myself and/or my work for the general promotion of Still Life Studio and its programs.
By enrolling in a class or workshop, I am acknowledging that I have read and understand the safety instructions and the liability waiver that have been outlined.